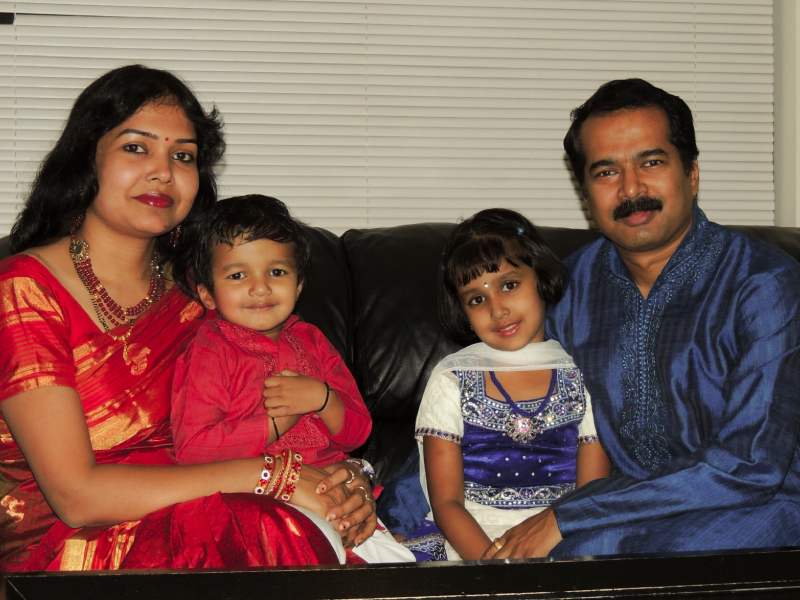 About this journey:
This story takes you on an unconventional journey of parents' struggle and the unusual path which they choose, in order to bring back their first born from a deadly disease. The struggles they went through, the unknown waters they had to tread and the additional intricacy that required a child to adhere to a strict routine. This blog post also sheds some light on Crohn's disease and highlights my journey with Specific Carbohydrate Diet (SCD). So, buckle up and get ready.
About me:
Myself Amrita Ghosh, a Bengali, born and brought up in the small town of Bhagalpur - also known as Silk City of India - in Bihar. Growing up, I developed a fascination with cooking and literature, or rather I should say cooking is my passion and literature my interest. Owing to the lack of opportunity in my hometown, I was unable to pursue my passion for cooking as a profession. So, I settled for my interest and completed my undergraduate in English literature. After completing my bachelors, I got married to an IT professional and moved to States. My husband Sushant and I now have two wonderful kids-- Vedika & Vedant.
Prologue:
During October 2016, we were visiting India on a six-week vacation. It was a homecoming after two and a half years, and the same was evident from our demeanor. Excited kids elaborately planned their schedule during the vacations. But fate had planned a different conclusion of this trip, unlike our previous vacations.
Everything was normal till we almost reached the end of our vacation period. Being a food lover that I am, I savored the street food that I badly missed in the States. At the same time, I also ensured to maintain a healthy diet for both kids, as they were more susceptible to infections & ailments after a change of environment. But, as fate would have it, on November 19, 2016, Vedika- my elder daughter - complained of stomach upset and diarrhea. Even after consulting 3 different doctors, trying a plethora of medicines and multiple remedies, there was hardly any improvement in her health. Our vacation was about to end, I even considered extending my trip till she recovers. I was intimidated by the dreadful scenarios my mind was creating, regarding her well-being. The multiple possibilities fabricated by a fearful mind are beyond imagination.
How it started:
Finally, on December 4, 2016, we returned to New Jersey (US), with the hope that maybe she might recover after returning home, as many times, the environment in which the kids are brought up has a profound effect on their health. But there was no respite. We consulted her pediatrician the same day, who suggested to stop all the previous medications and asked for stool sample for the test. He also advised administering her ORS continuously to keep her hydrated. But, ORS had little efficacy, her condition deteriorated further and stomach ache increased. Two days later, on December 6, 2016, my husband took her to the pediatrician again. After examination, he suggested immediate admission, as she was severely dehydrated even after regular doses of ORS.
I stayed back home with my 3-year old Vedant. My husband was under the impression that she will be discharged after putting on intravenous (IV) fluids for a couple of hours. But even after 11 pm, the hospital refused to discharge her, citing medical emergency. In that sub-zero temperature, I somehow managed to reach the hospital, with the help of a friend. The frenzy of multiple tests and drugs that started next day, lasted for a total of 10 days. All the possible tests were conducted by the doctors, but neither any tests came positive, nor any medications worked. Initially, the doctors suspected certain infection, but when all the tests came negative they were perplexed. They observed that her calprotectin was unusually high at about 1000 (normal<=50, abnormal >120 mcg/g). Based on this observation, doctors suggested endoscopy and biopsy as the next step. The moment I heard "biopsy" a conscious fear gripped me, a fear that cannot be portrayed by words.
The endoscopy was scheduled for the next day on Dec 17. I can still recall that day; there was an outer tumult of snow and wind in the "physical world", and a similar tumult of fear & despair inside me that tried to take away every iota of hope that I possessed. No consolation or prayer seemed effective enough to diminish my despair and resurrect my hopes. The endoscopy reports were before us in a span of 2 hours. According to the doctors, she had Crohn's disease - a rare inflammatory bowel disease that affects the lining of digestive tract. This was the first time I was hearing of it, yet it shook me to the core. It was the scariest moment of parenthood that Sushant and I experienced. Frustrated and helpless, we continuously pondered on how to reduce our child's pain, which was getting unbearable to watch by the minute. Witnessing your child suffer, helplessly, is the worst thing that can happen to you as a parent.
After the diagnosis, the doctors focused on stabilizing her condition. Diarrhea kept her weak and fragile. The only solution was to put her on steroids. Consequently, she was given prednisone (20mg) - a common steroid for treating inflammatory disease. Her condition improved after keeping her on prednisone for a month, but it was unsafe to continue over a long period due to its side effects. Doctors suggested practiced biological therapy consisting of medicines, that are immune suppressant and has other severe side effects. As the name suggests, immune suppressant medication weakens the immune system, making it vulnerable to various allergens & bacteria, causing several diseases. The risk involved in administering these medicines made us contemplate a second opinion. Accordingly, we consulted a prominent doctor from the Children's Hospital of Philadelphia (CHOP), who, after examining her earlier reports diagnosed the same Crohn's disease and advised us to start the medication as soon as possible.
My husband has a good knowledge of medicines, hence given the risks involved he was reluctant to put Vedika on such harsh medication. Instead, he started looking for an alternative therapy. Coincidentally, at the same time, a research paper from Seattle Children's Hospital was published regarding Specific Carbohydrate Diet and its impact on Crohns & ulcerative colitis. The Specific Carbohydrate Diet is an unconventional diet plan that severely limits or eliminates most carbohydrates from the diet. In this diet plan, most of the grains, complex sugars (anything except monosaccharides), starch and processed food is prohibited. On a quest to learn more about SCD and its effectiveness, we came across many sources. Amongst the humongous resources that we found, Elaine Gottschall's book - Breaking the Vicious Cycle - proved to be the most helpful. She has written this book after doing extensive research on this diet. This book gave us an insight of SCD, its efficacy, and recipes.
Initially, I was hesitant in implementing such a strict diet, that too for a six-year-old. Being Indian, it was difficult for me to figure out alternatives to our staple diet of rice & wheat. It was then that I came across two SCD cookbooks: "Recipe for SCD" by Raman Prasad and "Cooking for SCD" by Erica Kerwien. Using these as a reference, I started experimenting with SCD based recipes, adding an Indian touch. Together, we were also successful in convincing the doctor to give us 3 months' time to experiment with SCD rather than going for the conventional medication that had disastrous side effects.
January 15, 2017, was the day when the last dose of prednisone (5mg) was administered to her and SCD was started. Instead of three, we met the doctor after four months, who suggested us to redo the fecal calprotectin test. The lab results were a shocker! The CRP came down from 67 to 3.2, while the fecal calprotectin came down to 236.9 from ~1000. Our hopes were resurrected, and resolve was even stronger. Five months back we were in complete darkness about Crohn's, and then this outcome. The feelings of relief that I experienced at that instant were beyond success/failure or being fortunate/unfortunate-- as if these were just petty things in life. From being hesitant in adopting diet based therapy to implementing SCD; I felt mesmerized by the wonderful ways of God that He implements in working out His purpose.
During those moments of struggle, I witnessed the dedication of my child. The discipline and commitment she displayed in following the diet were praiseworthy. As the saying goes, "Everyone has a battle to fight, to some comes success, to others failure". We have continued this diet for 1 year now. The recent calprotectin test came out to be 15 (down from 269.9), while the endoscopy showed no inflammation in the intestines. Even the doctor seemed surprised with such drastic improvements, in spite of following an unconventional path. I believe all of this was possible because of her strong will, dedication and my husband's determination and support. Her devotion became my inspiration. I can't resist myself from quoting a famous line of Dr. Harivansh Rai Bachchan, that I came across: "If your life is taking the course desired by you then well & good; but in case it isn't then it's even better because then it is taking the course according to the will of some divine force, and that divine force will never think ill of you". Today I can experience the deep truths hidden in these lines.